The Kleaning Company offer dedicated and specialised after-build cleaning services to the construction industry and are celebrating its 8th anniversary this February. They have come a long way since their humble beginnings.
During the past 8 years the construction industry has addressed considerable challenges. Back in 2012 when TKC started, the construction industry was still healing it wounds from the global financial crisis. The past 4 years have seen the prospect of Brexit and political uncertainty cause construction output to fall to levels not seen since the financial crisis. Despite this, The Kleaning Company has thrived and 2019 was their best financial year to date and have raised their forecasts for 2020.

Success in Uncertain Times
So why does TKC do so well in such uncertain times?
First and foremost, the market is huge. No one has yet calculated the exact size of the construction cleaning market however The Kleaning Company's Managing Director Daniel Twiselton estimates the after build cleaning market to be worth £600 million, he said "our clients budget around 0.5% of their build cost to cleaning so with construction output at around £120 billion a year we estimate this market to be somewhere in the region of £600 million which is 2.5% of the total commercial cleaning market estimated at £24 billion per year."
Daniel goes on to say "one of the main reasons for our success is because of our staff. We have a very high employee retention rate, way above average for the industry. This means our staff are happy, I hope, and are well paid which gives us the confidence to invest time and money in them by training and qualifying them in construction related courses." He went on to add "by having staff qualified in SMSTS, IPAF, PASMA, First Aid etc gives us an edge over our competition. The industry has become so heavily focused, and rightly so, on health and safety it is vital to have industry recognised accreditations and qualifications to stand out from the crowd."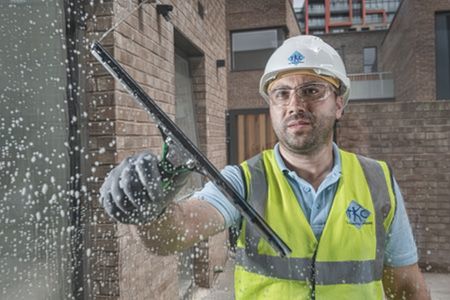 The Franchise Model
2019 also saw the launch of their franchise model which seems to be a good idea considering they service the whole of the UK currently out of London. Daniel explained "we currently send teams all over the UK from London sometimes to projects lasting several weeks and even months. Our clients are fully aware our staff are traveling from London and are staying in hotels but are happy to pay the premium because of our high level of service. Having local partners around the country, using local labour will drastically reduce our costs and will enable us to provide an even better, faster more efficient service to our clients. Franchising is perfect for The Kleaning Company and we believe we have a market leading franchise model available for the right candidates."
There are Only 21 Areas Available in the UK!
As this is highly sought after service in a niche area (the construction industry), TKC is only offering 21 large areas covering the UK. This gives great opportunity for the right person to build a very big business with all the building projects continually taking place.
Next Steps
To find out more about The Kleaning Company's franchise opportunity, please use the button at the top of the page to schedule a call.